Home>
Microsoft Office Standard 2013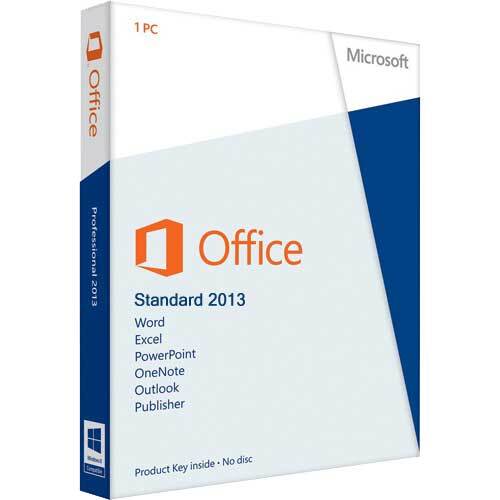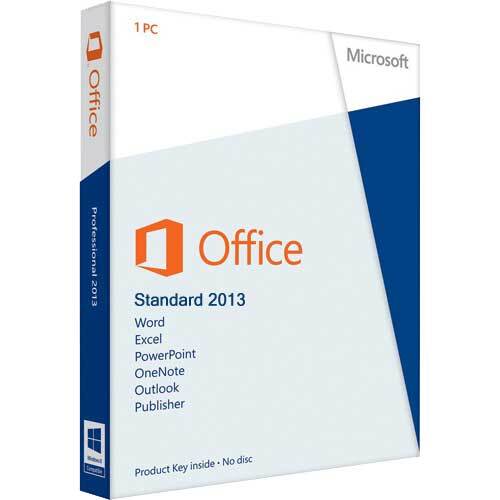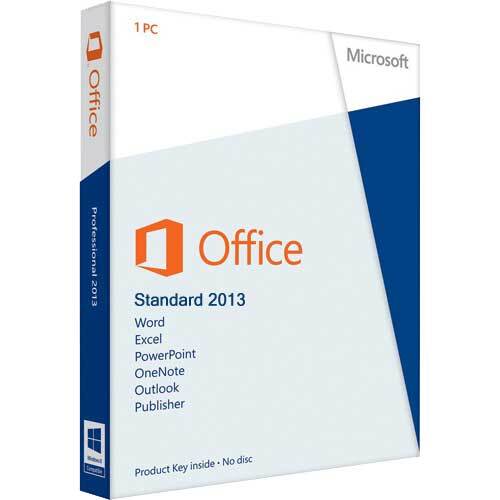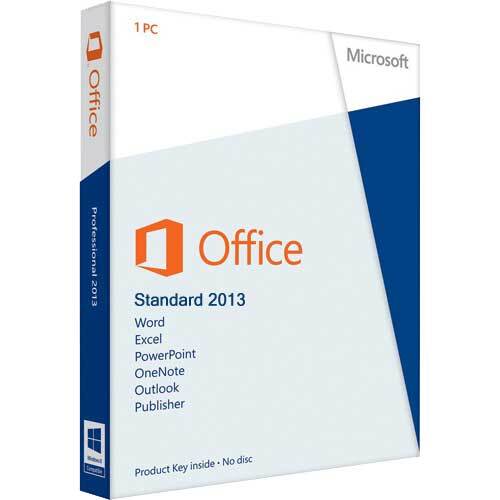 Microsoft Office Standard 2013
£40.00
Buy Microsoft Office 2013 Standard software for database management. Best for productivity for your home, office or business.
Full product details will be sent to your e-mail after your purchase.
Easy to install - simply buy, install then activate!
Benefit from security/quality updates.
No annual fee. (No subscriptions)
Better value than retail price.
Includes
Product Key: Genuine Office 2013 software product code/license (25-digit product key).
Software: Direct link to download.
How to: Step-by-step installation guide (Free install support).
Activate: Built-in official activation wizard - effectively start enjoying in minutes.
Apps included:
This Licence is for 1 PC only. You MUST activate within 72 hrs of purchase, after activation it will work for Lifetime of your system.
---
Description
Office Standard 2013 provides a comprehensive toolset for individual productivity, including the tools you need to create great-looking documents, spreadsheets, and presentations quickly and easily; and manage email.

Great Choice If You
Want a basic desktop suite to create documents, track finances/inventory, analyse data for business insights, and create presentations and marketing/sales collateral.
Need to communicate with others within and outside of your organisation and track business contacts.
Are looking for a work-capable desktop suite at an affordable price.

Your documents and settings roam with you with Office in the cloud
Sign in to your account and your Office applications, documents, and personal settings are right there, just the way you left them.
Save your work online in SkyDrive or SharePoint where it's easy to access, edit, and share on the go.

Keep your social networks and contacts well connected in Office
View multiple email accounts, Facebook updates, and LinkedIn feeds all in one place with Outlook.
Get ongoing updates on specific documents, sites and people delivered to your activity feed and stay connected in real-time by chatting with co-workers right within Office.

Discover better ways to create, read and share documents
Capture and organize all kinds of information in OneNote—notes, pictures, web pages, voice memos, and other media—and easily share them with others.
View Word documents in the new Read mode for a clear, focused, and easy-to-navigate reading experience on large and small screens.
With your documents saved online in SkyDrive or SharePoint, you can review and edit simultaneously with others, with the latest changes and comments accessible to the group.

Talk with family, co-workers, and friends virtually anywhere
Coming soon, with the full release, talk to anyone using Skype, including 60 minutes of free international calls every month to landlines in over 40 countries and to cell phones in 7 countries. (Skype account required. Excludes special, premium and non-geographic numbers.)
Transform meetings with presenter view and high definition video conferencing. (HD video camera required)
Create Professional Spreadsheets
Microsoft Office Standard 2013 is built to offer a wide range of tool set for every users productivity; it also contains all the tools you need to create professional and powerful spreadsheets, presentations and manage emails easily and effectively.
Easy Team Collaboration
Does your business require an affordable basic desktop application to create documents, analyse data, track inventory/finances for business insights, and create marketing/sales collateral and presentations? Would you like to track your business contacts, and collaborate with your team outside or within your organisation? Then buy Office 2013 standard for your ideal choice.
The Office Standard 2013 comes with the Word 2013, Outlook, PowerPoint, Excel, Publisher and OneNote software programs that work together to help you create powerful business presentations to implement effective marketing strategy in house.
Included Benefits
Word 2013
With the Word 2013 feature that comes with the office standard 2013, you can create amazing and professional documents with ease, and also work with different types of media such as pictures, online videos and more.
Excel 2013
Explore your data more intuitively with new Flash Fill office excel functions. Create graphics and pivot tables, analyse, visualise, and preview your results with just a single click. Also you can share your freshly discovered insights easily when you are ready with the new Microsoft Excel spreadsheet software
PowerPoint 2013
The office standard 2013 feature comes with a new brand look of Microsoft Power Point presentation graphics program with presenter split mode. It's primed and cleaner to tap and swipe through your presentations, with the use of finger gestures, and virtual laser pointer applicable for use on all android devices like tablets.
Outlook 2013
The included Outlook 2013 has a new, clean Microsoft Outlook collaboration and messaging client feature. Designed so you can have a clear view of your appointments, tasks, calendars, emails and contacts which then enable you to focus more on what is most important and communicate more easily by connecting effectively with others.
One Note 2013
The office standard 2013 includes a digital OneNote taking program for sharing, capturing, and storing all sorts of information. Its fresh and clean look of the OneNote 2013 enables you focus more on important tasks instead of the interface.
Publisher 2013
Now you can easily create, share and personalise different kinds of quality marketing and professional publications materials with the Microsoft Publisher 2013.
Product Features
1. Make Your Documents Roam with You on Office in the Cloud - With the office in the cloud feature you can save your work online in SharePoint or SkyDrive where you can easily edit, access, and share your files on the go. All you need to do is sign in your cloud account and your documents, personal settings and office applications will be right there, just where you left them.
2. Connect Your Contacts and Social Networks with Office - Connect in real-time with your team and organisation even from anywhere you are, get nonstop updates on specific sites, people, and documents and also view all your email accounts, LinkedIn feeds and Facebook updates delivered to your activity feed with Office Outlook.
3. Explore Efficient Ways to Read, Create, and Share Documents - Organise and capture all types of information in OneNote, like pictures, notes, voice memos, web pages, and more, and share them easily with others. Save and review your documents online in SharePoint/SkyDrive and enjoy latest updates, and group comments. View your Word documents in a new Read mode for more focused, clear, and easy to navigate reading visualization on small and large screen.
4. Touch Optimised Word Reading Mode - Skim through your documents with the touch optimised Word reading mode using the finger swipe option, to make changes to documents and edit PDFs documents with huge overhaul.
5. Improved All-Round Office Suite - The Office Standard 2013 for Windows is design to make you stay productive and rise to the modern business environment challenge using your computer, smartphone, or tablet with enhanced usability toolset for seamless team collaboration, integration and working across all devices.
System Requirements
Required Processor: 1 Gigahertz Faster x 86 or (Ghz) - / x64 - Bit processor with SSE2
Required Operating System (OS): Compatible with Windows 7, 8 or later OS, Windows Server R2 2008, or Windows 2012 Server
Required Memory: 1 GB RAM (32 bit) or 2 GB RAM (64 bit)
Hard Disk Space Required 3.0 GB disk space
Required Display: 1024 x 768 resolutions
For Optimised Graphics: Direct X 10 graphic card is required for Enhanced Graphics hardware acceleration
Multi-touch: All functionality and features are always available by using a mouse, keyboard or other accessible or standard input device. However a touch enabled device is required to use all multi touch functionality of the Microsoft Office 2013 software package.
Note: All the newer features are fully optimised and compatible with windows 8 OS or later
Additional System Requirements
An Internet connection is required to enjoy full features
×