Home>
Microsoft Office 2019 Home & Student for Windows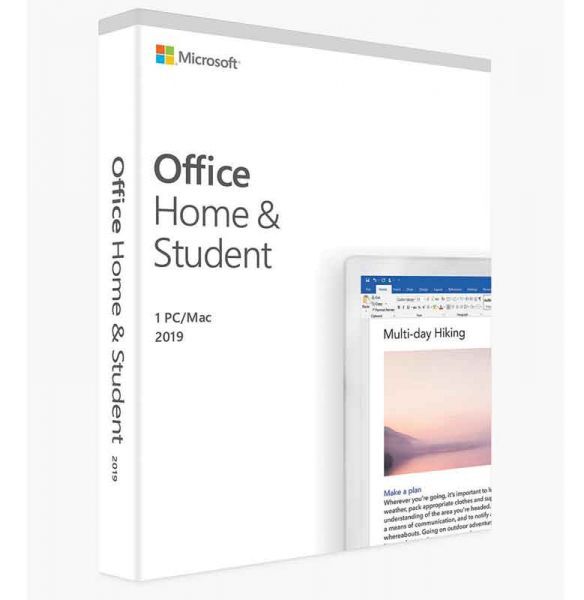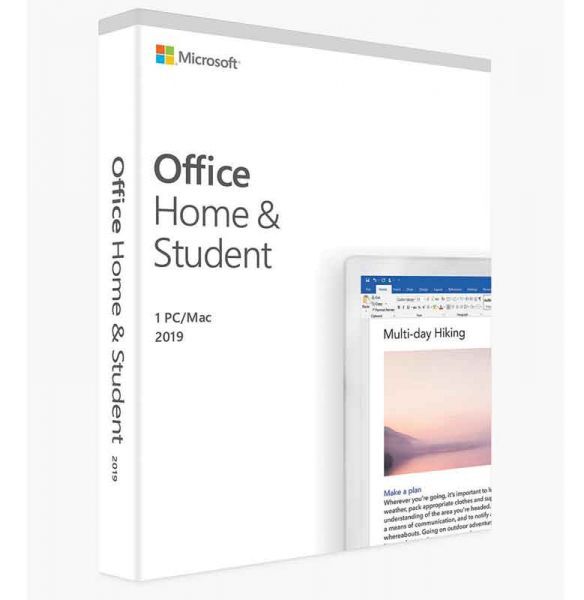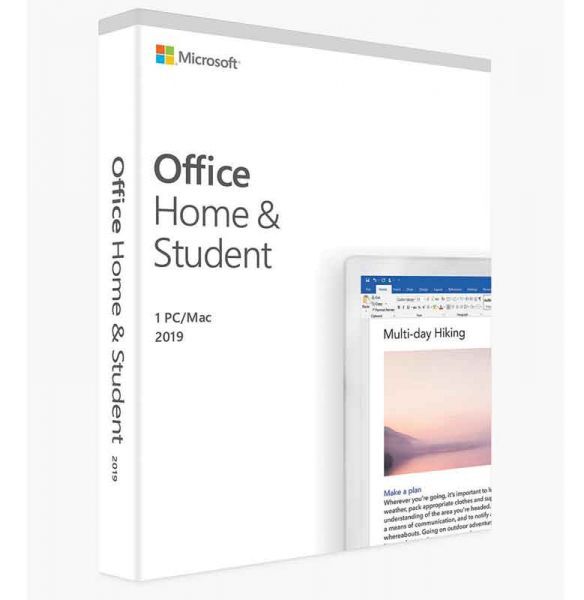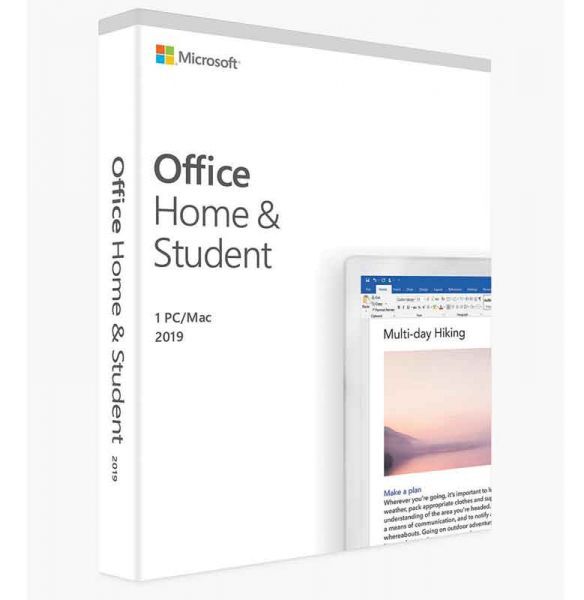 Microsoft Office 2019 Home & Student for Windows
£159.00
Buy Office Home & Student 2019 for Windows 10 software package. Ideal desktop software for home or student use.
Full product details will be sent to your e-mail after your purchase.
Easy to install - simply buy, install then activate!
Benefit from security/quality updates.
No annual fee. (No subscriptions)
Better value than retail price.
Includes
Product Key: Genuine product code/license (25-digital product key).
Software: Direct link to download and redeem from the official manufacturers' website.
How to: Step-by-step installation guide (Free install support).
Activate: Built-in official activation wizard - effectively start enjoying in minutes.
Apps included:



Microsoft Outlook 2019 is available in Home & Business 2019 and not included with HS.
This Licence is for 1 PC only. You MUST activate within 72 hrs of purchase, after activation it will work for Lifetime of your system.
Why such low prices? By offering you a product download, there`s no delivery or warehouse costs. We work hard to keep our buying costs as low as possible and pass on the savings directly to you!
Any questions? - talk to us by live-chat or phone!
---
Description
Microsoft Office 2019 for PC
Lifetime installation. No additional surcharges/subscriptions. Auto updates (free directly from manufacturer/developer)
Did you know Office Home versions come in two editions - Home & Business 2019 and Home & Student 2019.
Home & Student 2019 includes Microsoft Word 2019, PowerPoint 2019, OneNote 2019 and Excel 2019. The difference is Home & Student 2019 doesn`t include Outlook 2019.
Home & Business 2019 includes Microsoft Word 2019, PowerPoint 2019, Excel 2019, OneNote 2019 and Microsoft Outlook 2019.
Office 2019 is designed freshly from the ground up to take full advantage of the latest Mac features, including Retina display, full screen view support, and scroll bounce. There are many new features and updates since Office 2016 editions.
It's the perfect combination for the Familiar Office you know, trust and love, and the Windows system you cherish.
See MS 2019 Editions of Word, Excel, PowerPoint, OneNote, and Outlook.
One-time purchase. No additional Fees / Charges / Surcharges / Subscriptions
View, share, or edit documents online with cloud activities.
NOTE: Home & Student does not include OUTLOOK 2019. Only the Home & Business Edition includes Outlook.
Office 2019 for Windows 10
Office Home & Business 2019 for Mac is designed , with its ease and familiarity, for users and small businesses alike that want Office with the power of Outlook for email, calendars and contacts. It's the Office you know, love and trust, updated to take advantage of the last Mac features, including Retina display and full screen view and others.
Office 2019 delivers familiar features across apps to help users create amazing content efficiently! In PowerPoint 2019, you can create cinematic presentations with endless features like Morph and Zoom. And improved inking features across the apps familiar to Windows—like the roaming pencil case, pressure sensitivity, and tilt effects—allow you to naturally create documents on a PC with the familiarity of Windows 10.
Excel 2019 adds powerful data analysis features; including but not limited to, new formulas and charts and PowerPivot enhancements amongst some.
Word 2019 and Outlook 2019 help you focus on what matters most to you. Learning Tools, like Read Aloud and Text Spacing, make life easier by engaging with your content in real-time. Focus Mode blocks out distractions and puts your content front to centre. Focused Inbox moves less important emails out of the way—so you can get straight to taking care of business and prioritise your timekeeping.
Outlook 2019 for PC (Home & Business Edition ONLY)
Outlook 2019 for PC allows you to Easily manage your email, calendar, contacts and tasks with an all new fresh gui. Push email support keeps your inbox up to date, allowing conversation view and groups binding messages and calendars for a more efficient and productive yet personal email client experience.
Word 2019 for PC
Word 2019 for PC allows you to Create and share professional-looking documents with state-of-the-art editing, reviewing, sharing and design tools. The new Design tab provides swift access to a multitude of features, and with Smart Lookup - efficiently showing all relevant contextual information from the web directly inside Word.
Excel 2019 for PC
Excel 2019 for PC allows you to Analyse and visualise your data in new and intuitive ways with a slick user interface. Other features, including, Leverage features Analysis Toolpak, Slicers, and Formula Builder to save time, so you can focus on insights more efficiently.
PowerPoint 2019 for PC
PowerPoint 2019 for PC helps Create, collaborate and effectively present your ideas with new slide transitions including an ll new improved Animations task panel. Threaded comments alongside your slides help to incorporate feedback into your presentations with ease. Features including Presenter View displays the current slide, next slide, speaker notes and a timer on your Mac, while projecting only the presentation to your audience on the big screen to help display things - Your way!
OneNote 2019 for PC
OneNote 2019 effectively becomes your very own digital notebook, to help track notes, ideas, web pages, photos, audio and video all in one place. Whether its for your home, collaborating in the office or on the move, you can take it all with you wherever you go.
Minimum System Requirements
PC: Microsoft account • Internet access • Windows 10/11 • 1.6 GHz, dual-core processor • 4 GB (64-bit), 2 GB (32-bit) RAM • 4 GB available disk space • 1280×768 screen resolution.
×
Microsoft Office 2019 Home & Student for Windows
£48.95

Added to cart

View Cart

Proceed To Checkout
×